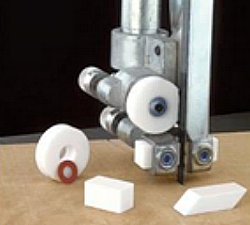 Ceramic guides have been used in various applications within the saw mill industry for the past 15 years. Our Delta 14 inch, Delta 12 & 16 inch, Import, and Craftsman Old Style Ceramic Guideblock products all are suitable for use with any blade width.
Made of virtually indestructible ceramic, the ultra-smooth surface, low friction thrust bearings and guide block products provide excellent support to bandsaw blades. They run cooler, provide truer tracking, and make the blades run much smoother and quieter.
Why You Need SpaceAge Ceramic Guideblocks
Our guide blocks reduce friction and can reduce pitch build-up on the blade. They work with blades 1/4″ wide and up. Keep the blocks clear of the blade teeth. Our import set will fit Jet and General 14″ saws, and most Delta 14″ clones. All block sets come as a set of 4 that includes both upper and lower guides.
Band Saw Not Standard? We Can Help!
If you need guide blocks or thrust bearings that are not considered a standard size, let us know. We can customize ceramic guide blocks and thrust bearings to your specifications. Contact us for more information.