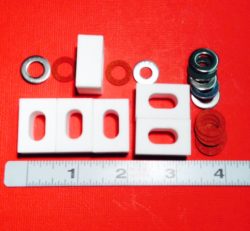 This is the Jet DX Pro Guide and Thrust bearing system
(Sold as a complete double roller bearings replacement system)
NOTE: This system only works on saws with screws that hold the guides in place.  If your saw has circlips these will not work.
1/2″ x 3/4″ x 1″ with 5/16″ (8mm) slot
$68/set
Comes with 6 fiber washers and 6 steel washers.