What's our secret? It's the material.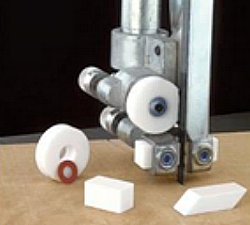 SpaceAge Ceramic Guideblocks®, Thrust Bearings, and Honing Tools are made of aluminum-oxide, the same material used to make ceramic products for NASA. They create far less friction and in turn provide a cooler running blade and truer tracking. They run smoother, quieter, and outlast every other guide block on the market. 
Industrial aluminum-oxide ceramic guides practically never wear out. As an added bonus, our customers tell us that our guides and bearings increase blade life by 40%!
Our Products
Ceramic guides are used in various applications within the saw mill industry and have been for the past 18 years. You'll get cooler and quieter band saw operation with any of our unique guide blocks and thrust bearings.
Standard ceramic guide blocks to fit Delta 10, 12, 14, & 16 inch, Delta/Rockwell 20 inch, and Craftsman Old Style saws are just the beginning.  Four-piece guide block sets handle upper and lower guides. All are suitable for use with any blade width.
In addition, ceramic thrust bearings offer the same durability for your Delta 10, Delta 14, Jet 14, Imports 14, Inca 340 and 360.
Roller Bearing Replacement Guides
Most band saws that utilize roller bearings for guides and thrust bearings can be upgraded to ceramic parts very easily, allowing for more efficient operation. SpaceAge ceramic guides and thrust bearings create less friction, are quieter and last far longer than rollers.
Our ceramic guides and thrust bearings do not have moving parts so they are not prone to the issues that plague roller bearings: clogging with sap and/or debris, and a tendency to rust in humid or wet conditions.
If your saw currently utilizes roller bearings, you should consider enhancing your saw's performance with ceramic parts.  Check out the Grizzly 14″, the Rikon 14″ and the Rikon 18″.
Is your saw unique? We also make ceramic guide blocks and thrust bearings to your specifications.  Please contact us direct for more information.
"Just wanted to say thanks for making the ceramic guides for us.  I assembled everything yesterday and the sawmill works awesome!!! I don't think the mill ever cut that well when it was new and the boss was very impressed with how well it cut.  Again, thanks for all your patience working out a solution that works great." Thanks, Ryan.
If you are a meat cutter, eliminate the possibility of steel or plastic shavings contaminating your meat product with Speaceage Ceramic Guideblocks, especially made for industry saws.
Aluminum-oxide also makes a great honing tool. We have both rectangular and round honing tools that make sharpening your knife blades, fish hooks, and broadheads a breeze.
Read more about the benefits of Ceramic Thrust Bearings.
Satisfaction Guaranteed
Previous testing has shown that our guides run truer and cooler with little or no friction. Unlike phenolic or steel guides, our ceramic guides have a guide block seat tolerance of a +/- .005 running quieter and smoother. We know you'll be a satisfied customer.